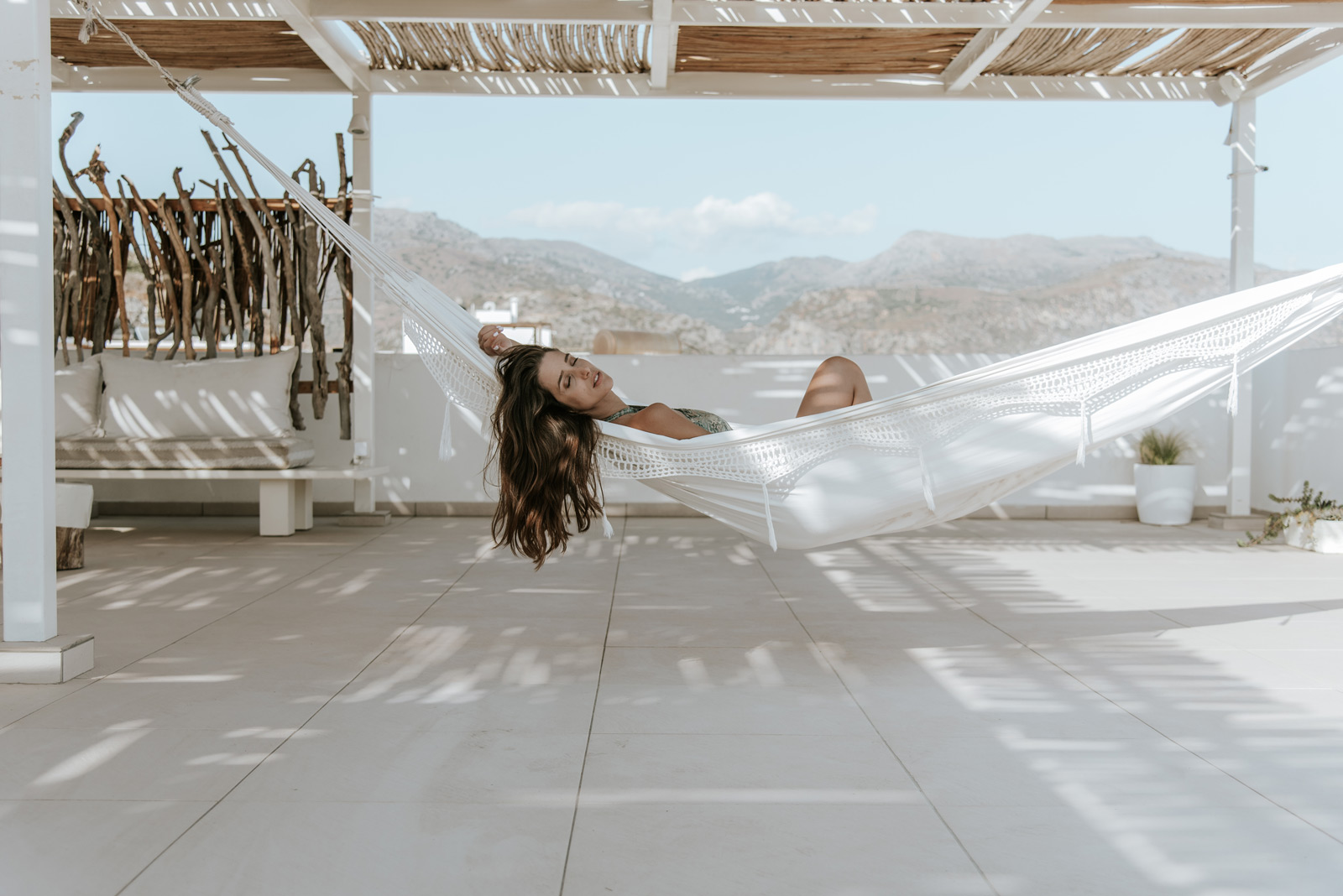 Namaste Cretan sun
Calm, Connect and Create
Taking a vacation means different things to different people – while for some it may entail serious time for relaxation, to others it may be imperative to include some sort of physical activity. Over the last few years, we have witnessed a steep increase in the interest for exercise & wellness-oriented tourism.
Paleochora is ideal for outdoor activities, all year round and here at Aris Art hotel we have also incorporated various exercise sessions and body treatments to satisfy our guests' needs and requests.
Programs
Yoga
Paleochora attracts hikers who love wandering the Cretan mountains, as well as yoga-enthusiasts who are eager to roll out their mats in our embracing climate and stunning views. There is a perfect space for yoga and yoga-related activities on the roof-terrace of Aris Hotel and we welcome single guests as well as groups to take advantage of this space for their yoga-sessions. We can also help you get in touch with local yoga teachers for yoga classes during your stay with us.
Massage
Witnessing our guests returning tired after long days of hiking in the Cretan mountains, we have decided to incorporate a wonderful, tropical-inspired massage studio for your pleasure and relaxation. Take advantage of this cozy space and book your massage appointment through our staff. The massage room has been hand painted by a local artist and decorated with the same passion as all the rest of the hotel; it has turned out to be a wonderful little addition to the Aris Art Hotel concept and we are really looking forward to our guests making good use of it.

During the hot summer season, we also offer the possibility for you to enjoy your massage and healing therapies in a secluded and quiet area of our lush garden, or up on the roof terrace, depending upon the winds. Nothing is more relaxing nor as revitalizing as getting an outdoor massage, especially during the early hours with the morning breeze. We collaborate with a couple of well-established, local massage therapists and can therefore offer a range of different therapies such as reiki, deep tissue massage, Swedish massage and reflexology – all to suit your specific needs. Please contact the Aris Art Hotel staff for further information.
Meditation
Some of our guests have incorporated meditation in their daily routine as a method to ground themselves and find their inner peace while the rest of the world is busy being constantly busy. Others are intrigued and willing to try it when placed in the right environment. We embrace such approaches that have a powerful positive effect to our physical and mental health and we are keen in cultivating a mentality of inner gratitude and appreciation for the here and now, therefore often enough we organize group meditation sessions, on the roof terrace. However, one may peacefully meditate throughout our exterior premises, it is a frequent sight for us.
Sound of Silence
The southern coast of Chania and the wider area of Paleochora, in particular, is a remote, serene, wild and harsh land, inhabited by authentic, unfiltered and genuine people. It is a haven for those who seek tranquility, simplicity and clarity. It a back-to-basics sort of place where you can leave behind the fuss, the noise and the complexities of everyday life in order to find your inner voice and balance; such a sought-after virtue, yet so difficult to reach. When in silence, you get to listen to the waves breaking on the sand, the winds whistle blowing and the sea gulls flapping their wings…and then you get to listen to your own heartbeat being in sync with your surroundings. This is the moment…when magic happens!